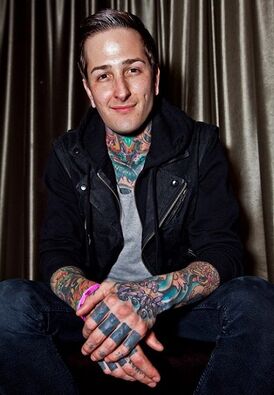 Mitchell Adam "Mitch" Lucker 
was born on October 20, 1984 in
California Riverside, California
.
On November 1, 2012, it was announced by Orange County Coroners Office that Mitch Lucker had died that day from injuries sustained after a motorcycle accident at Huntington Beach, California. The coroner's office said Lucker was "pronounced dead at 6:17 a.m. Thursday at UCI Medical Center in Orange County". One report stated that Lucker crashed his motorcycle shortly after 9:00 p.m. on October 31. He was 28 years old.
Aftermath
On the night of November 1, a candlelight vigil was held in memory of Lucker at the crash site. It was attended by 300–400 people, including fans, friends, and family members. At the vigil, Lucker's wife, Jolie Carmadella, stated that he had been intoxicated at the time of his death, and that she had begged him not to leave the house: "He was an alcoholic, and it's been a big battle. I tried to stop him. I was in front of him begging him not to leave the house. Begging him. 'Just seriously, for us, don't leave.' And he did. And this is what happened...He was an amazing man. He was a wonderful father and a great husband. And now he's gonna miss out on watching [his five-year-old daughter] Kenadee grow, because he decided to drink and ride."
His Suicide Silence bandmates held a memorial show titled "Ending Is The Beginning" on December 21, 2012, which took place at the Fox Theater in Pomona, CA. It served to benefit Kenadee Lucker's future education costs. The band has also started the Kenadee Lucker Education Fund and continues to promote donations towards Mitch's daughter.
Oliver Sykes, lead vocalist of Bring Me The Horizon teamed up with band photographer  Adam Elmakias to raise money for Lucker's daughter. All raised money will go towards her education fund. This fund still continues today.
Music Career
Edit
Lucker first started performing in his brother's garage band, covering a Hatebreed song he knew the lyrics to when they needed a vocalist. Lucker and rhythm guitarist Chris Garza later started Suicide Silence in 2002, a band which rose to fame very quickly. Originally, the band had two vocalists, with Tanner Womack fronting the band as well as Lucker. However, when Womack was dismissed, Lucker became the sole vocalist.
The band's debut album The Cleansing becoming one of the biggest-selling Century Media releases with 7,250 copies sold in the first week. Their second album No Time to Bleed was released on June 30, 2009. The band's last album to feature Lucker, The Black Crown was released on July 12, 2011. By this time, his lyrics had begun to lose the previous controversial anti-religious content. When asked by Lucker explained: "I'm not trying to put people's beliefs down – it's about me and my life. This is my head cracked open and poured on the paper! I still have the same beliefs and same views, but I'm more open to everything. [...] At this point in my life, I don't see the good in making people hate you for something you say. This record is for everybody."
Influences
Edit
In an interview with The AU Interview, he said the bands that influenced him into starting a band were "Korn, Deftones, Slayer, Sepultura and anything my dad brought home."
Discography
Edit
Commissioner
Collabarations 
"Predator, Never Prey" (Featuring Mitch Lucker) - The Acacia Strain (2006)
"Classic Struggle" (featuring Mitch Lucker) - Winds of Plague (2009)
"We Are The Many" (featuring Mitch Lucker) - Caliban (2012)
"The Sinatra" (featuring Mitch Lucker) - My My Misfire 
"Spirit Vitriol" (featuring Mitch Lucker) - The Devastated (2012)
Tattoos of Mitch Lucker
Edit