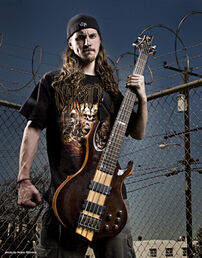 Daniel Kenny replace Mike Bodkins as bass guitarist in 2008. He is from Pacifica, California. Dan Kenny is well known for bringing more than just bottom end and superb fast playing to Suicide Silence's crushing sound.
Ad blocker interference detected!
Wikia is a free-to-use site that makes money from advertising. We have a modified experience for viewers using ad blockers

Wikia is not accessible if you've made further modifications. Remove the custom ad blocker rule(s) and the page will load as expected.